Companies in various sectors use content management systems (CMS) such as Drupal or Wordpress to improve their online communication and to manage content themselves. There are many content management systems on the market that are suitable for a project. As a rule, one sticks to the systems that are well-known and secure.
The decision on whether to use Drupal or Wordpress as content management system is made after a detailed analysis of the current and potential future requirements. 
With over 17 years of experience in web development, we can bring all our know-how to the implementation of websites, online platforms or login systems with Drupal or Wordpress. Of course, we also support you in relaunching websites or plan campaigns for landing pages together with you, even with very high hosting requirements in terms of availability and performance.
 
17+ Years of Web Development and Hosting
HTML + CSS markup creation from graphical layouts
Content management solutions for login systems, business websites
Portal systems
Web applications
Landing pages with high loads
Interfaces
Internationalisation
Extension development
Fix prices for website maintenance
Hosting solutions for high-traffic reporting systems, websites and portals
Compared to WordPress, Drupal's functionality is much more comprehensive. With Drupal, large web projects can be realised, which go much further than pure content management. WordPress, on the other hand, has less functionality and is therefore suited for simpler web solutions.
What is Drupal and what are the advantages?
With Drupal, as with other content management systems (CMS), content can be placed on the internet and edited. Drupal's modular structure means that there is a wide range of possible uses. The list ranges from "one-person websites" such as personal weblogs to online communities with thousands of members and well-known websites such as the Landesportal NRW, IHK, Umweltbundesamt and many more can be viewed at https://www.drupal.de/referenzen.
Strict separation of layout/design and functional source code
Sophisticated taxonomy system for hierarchical categorisation of content
Content types can be used to build different types of pages
Role-based permissions system
Content versioning
Built-in full-text search function
Built-in caching mechanisms
Language settings (including multilingual sites) using localisation data
Connection to LDAP server/authentication and OpenID
Multisite capability: build isolated sites on one installation
Custom code customisations/additions without core/module code changes
The hook system allows to interact with Drupal core and other modules
REST API interface
What is WordPress and what are the benefits?
WordPress is the most widely used system for running websites, accounting for about 40% of all CMSs. In WordPress, each post can be assigned to freely definable categories, and navigation elements are automatically generated to fit. Furthermore, the system offers reader comments with the possibility to check them first before publishing, a management of user roles and rights and the possibility of external plug-ins, with which WordPress can be extended towards a full-fledged CMS. WordPress does not offer native support for multilingual websites.
Separation of layout/design
User-friendly interface
Easy categorisation of content
Easy extensibility through plugins
Easy theme integration
Built-in full-text search function
Automated security updates
Good basis for search engine optimisation
Lower development costs
REST API interface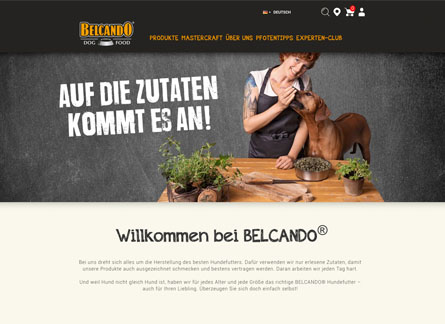 Erweiterung des vorhandenen Drupal 7 Content Management Systems durch Modulentwicklung und Integration der Magento 2 E-Commerce-Plattform. Entwicklung eines API-Servers für die einfache Kommunikation zwischen CMS und Shop als Middleware. Bestell- und Sendungsinformationen werden in Echtzeit mit dem ERP und der Logistiksoftware abgeglichen. Bereitstellung von Serverleistungen für Webseiten und Anwendungen in der skalierbaren Cloud-Server-Infrastruktur von fluidweb.
Zur Webseite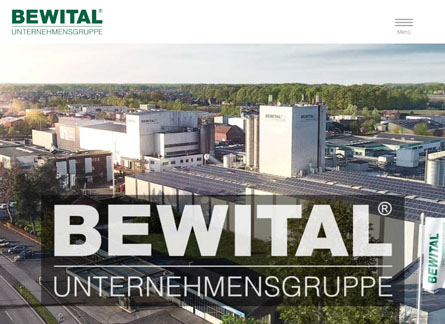 The name BEWITAL stands for outstanding entrepreneurial ambition. The company produces high quality products for the healthy breeding and nutrition of livestock and pets. The multilingual corporate website was implemented using Drupal 8 CMS. The portfolio includes a user-friendly career portal with cumulative job offers from all company divisions.
To the website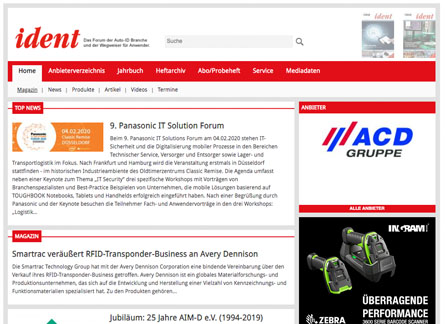 Since 1996 the ident reports practice-oriented, with cross-industry user reports, product presentations and current news about technologies and applications from the areas of barcode (1D+2D), RFID, identification, mobile IT, scanners, printing & application, logistics software and sensor technology. The portal was implemented with the Drupal 7 CMS. The user experience of the archive and the similarity search of articles with keywording are to be emphasized.
To the website
Bewital Agri has been a specialist in healthy animal nutrition for more than 50 years. BEWITAL agri specializes in the areas of young animal rearing and energy supply for farm animals. The multilingual corporate website was implemented with the Drupal 7 CMS. Particularly challenging were the sections "contact persons" and "products".
To the website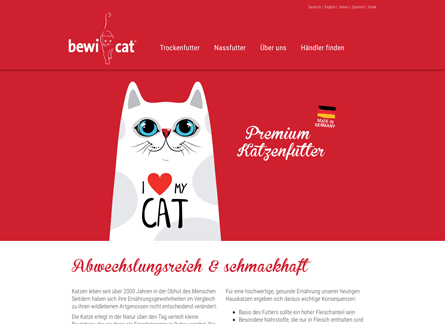 bewi cat® is a traditional brand of the company BEWITAL petfood GmbH & Co. KG from the western Münsterland. The brand stands for reliable quality at an excellent price-performance ratio. The multilingual company website was realized with the Drupal 8 CMS. We paid special attention to the areas "dry food" and "find a dealer".
To the website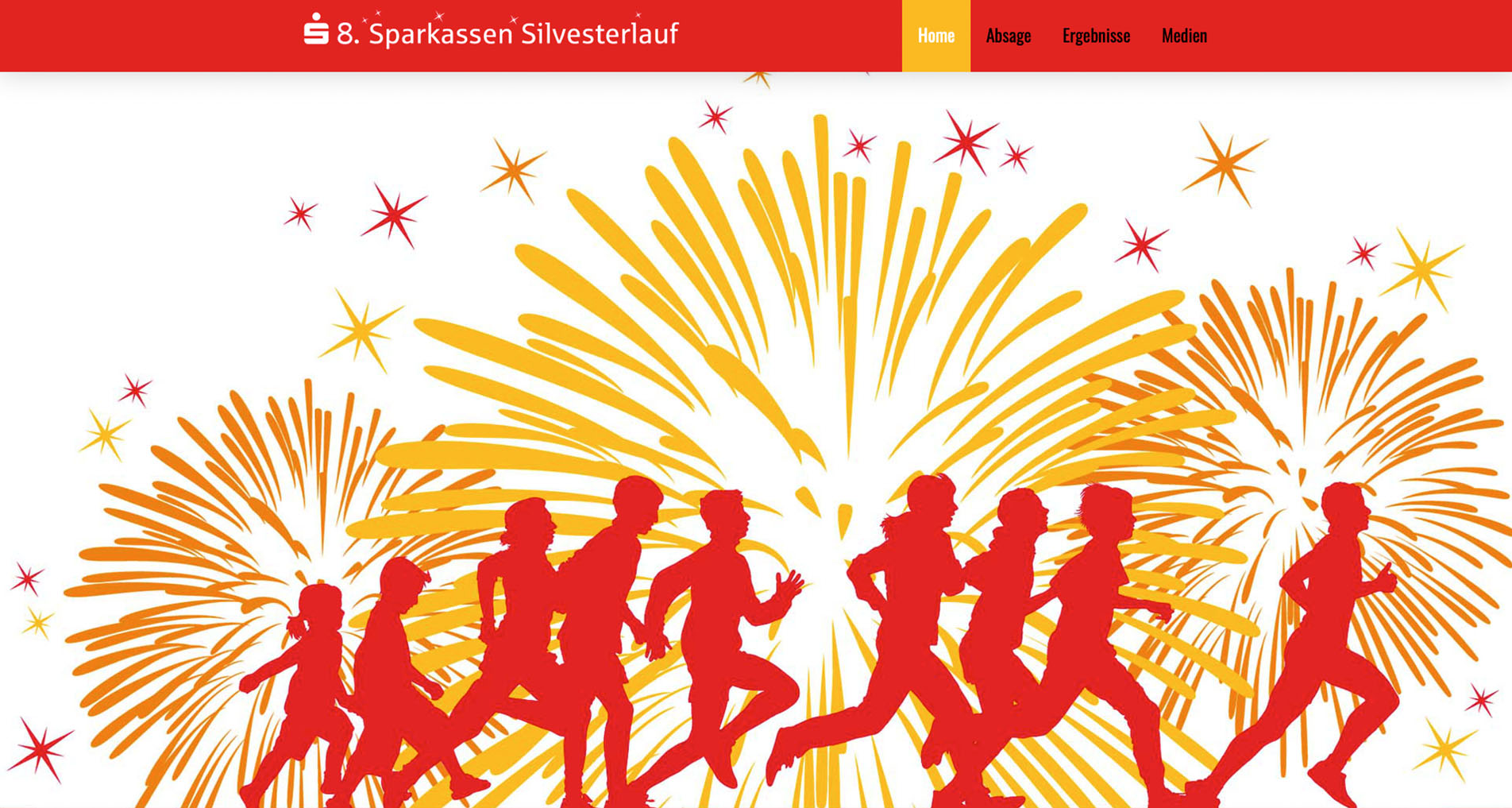 We the triathlon department of the Bocholter Wassersprotverein have teamed up with the Stadtsparkasse Bocholt to make the Bocholter Silvesterlauf possible.
To the Website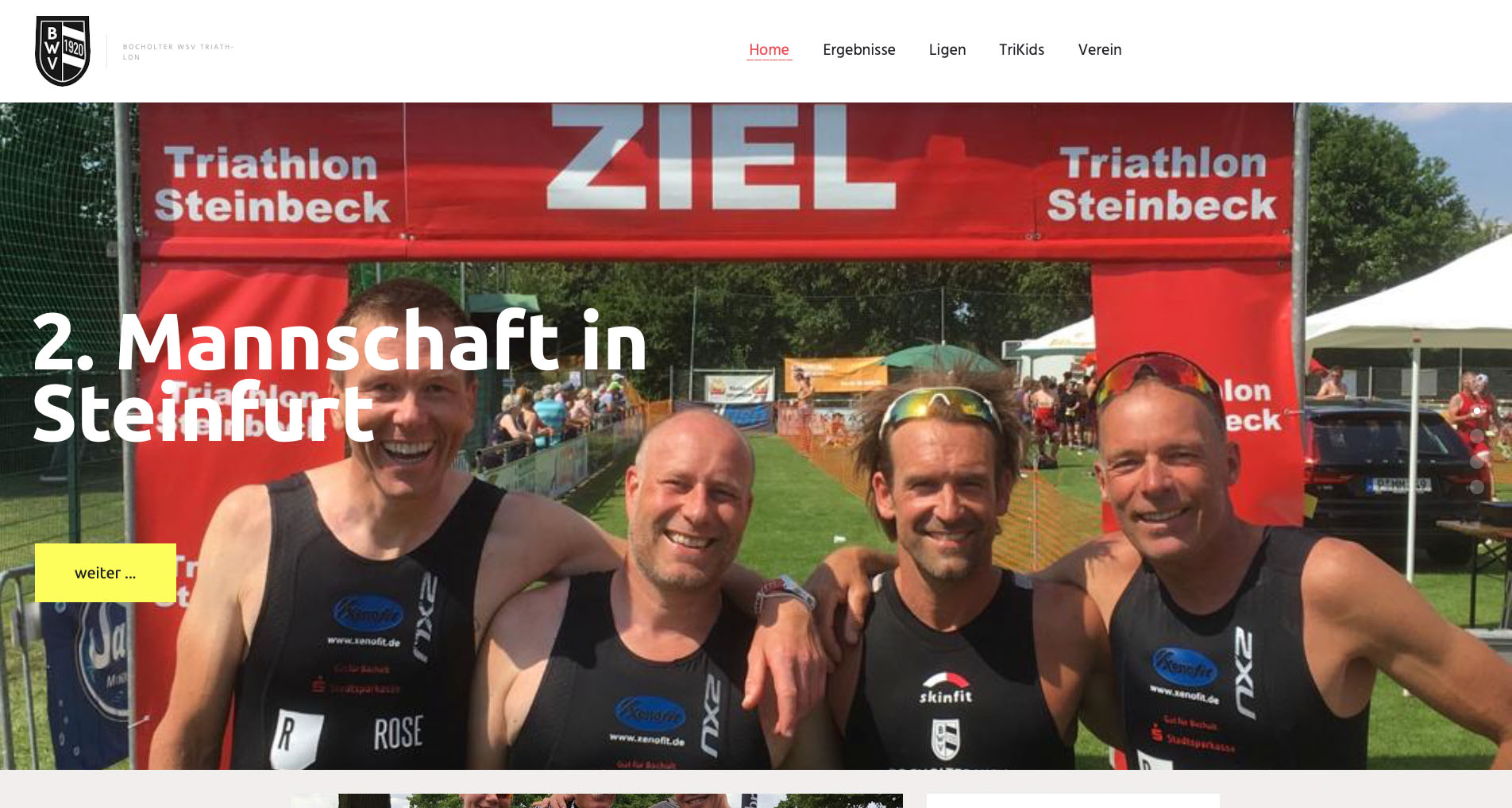 Sport is at its best in the club! In seven departments we offer popular and competitive sports and with the club's own natural swimming pool Tonwerke we also have a unique sports and leisure center at our disposal.
To the Website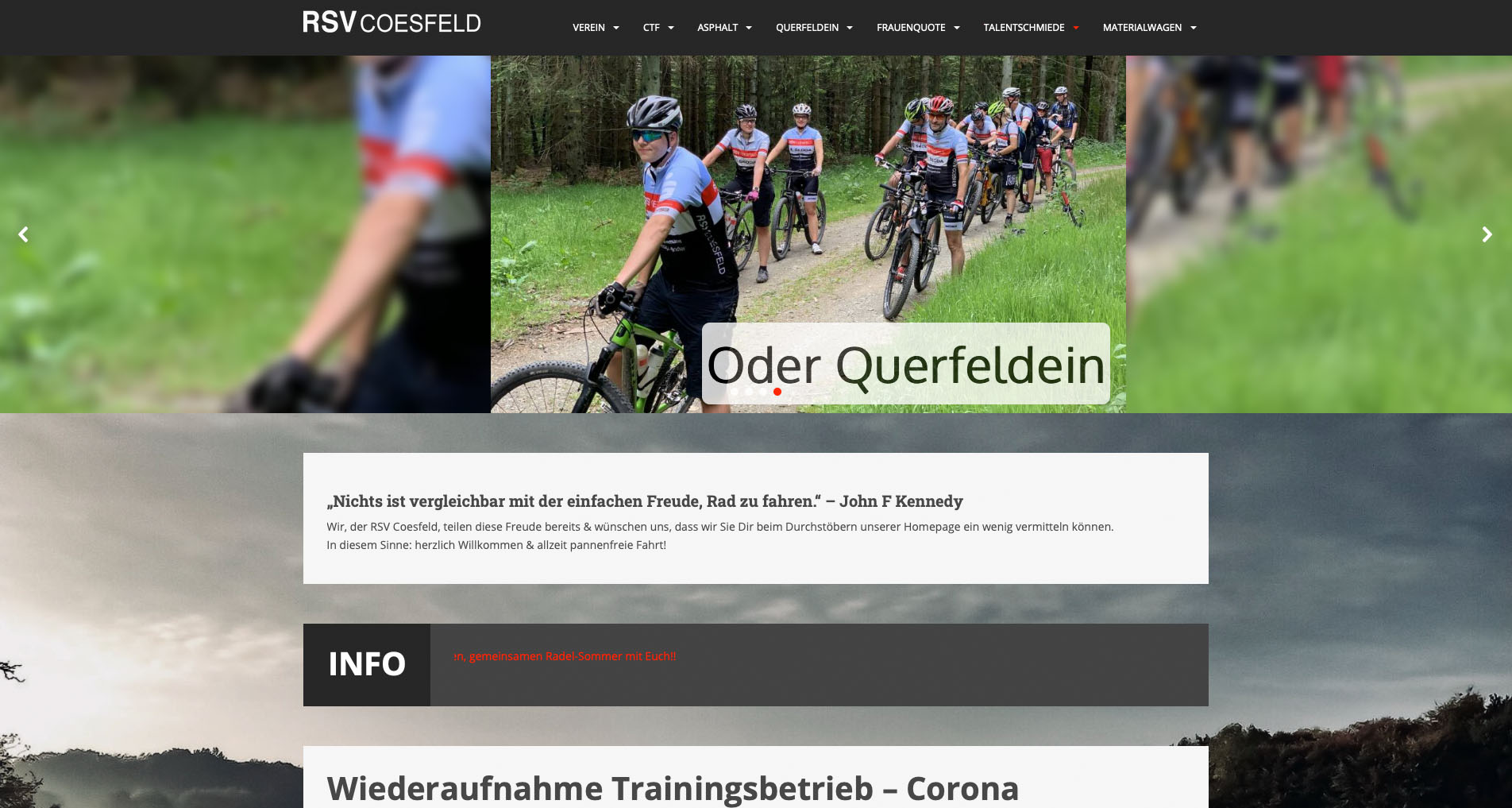 "Nothing compares to the simple joy of riding a bike." - John F Kennedy
We, the RSV Coesfeld, share this joy already & wish that we can convey you a little while browsing our homepage. In this sense: welcome & all the time mishap-free ride!
To the Website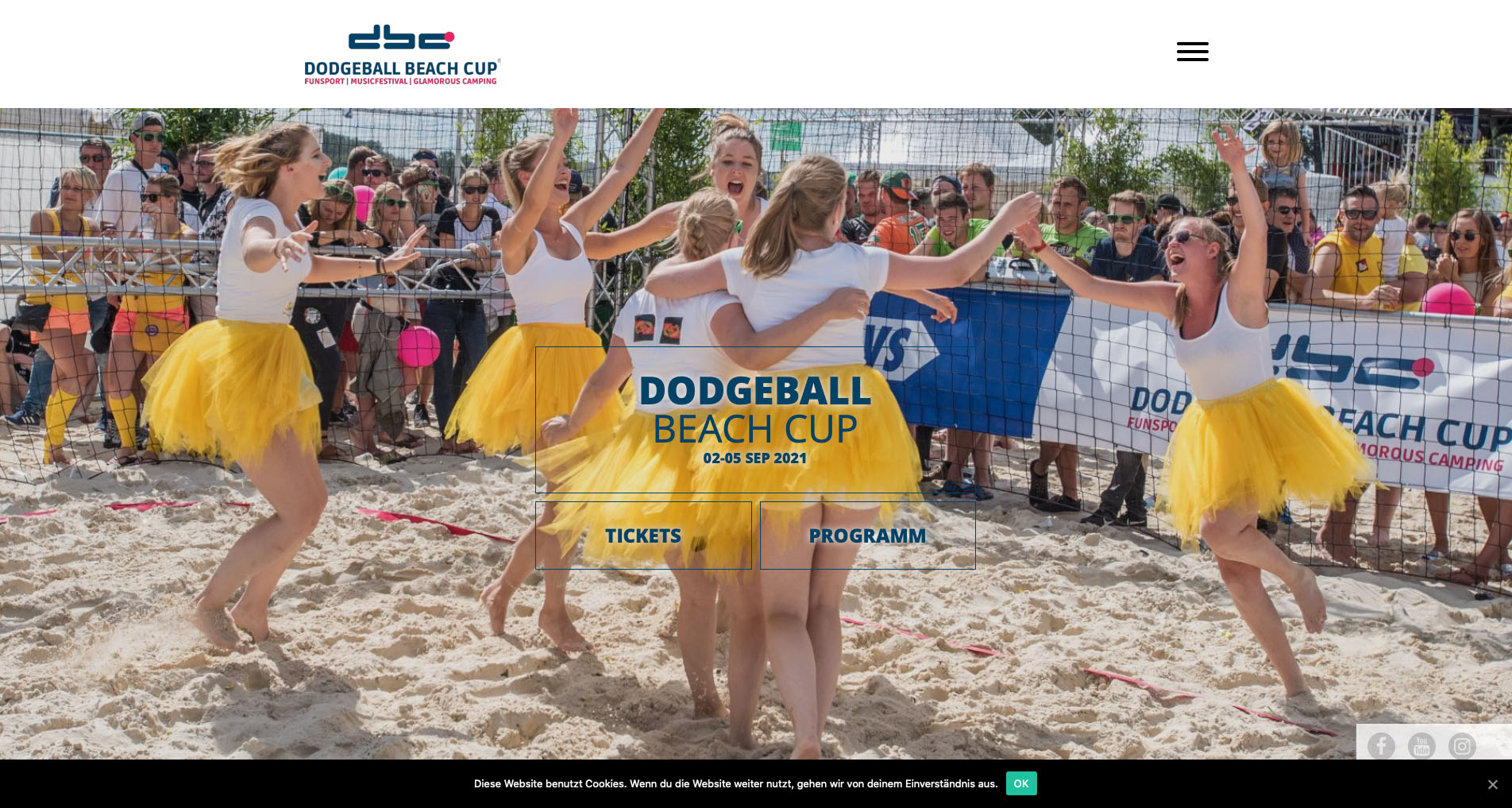 From a small, local tournament to a breathtaking fun sports festival. Every year, the DODGEBALL BEACH CUP attracts more than 2,800 participants from over 15 countries to Münsterland. In addition, there are a good 20,000 festival visitors who want to have fun together in the summer, sun and beach feeling.
To the Website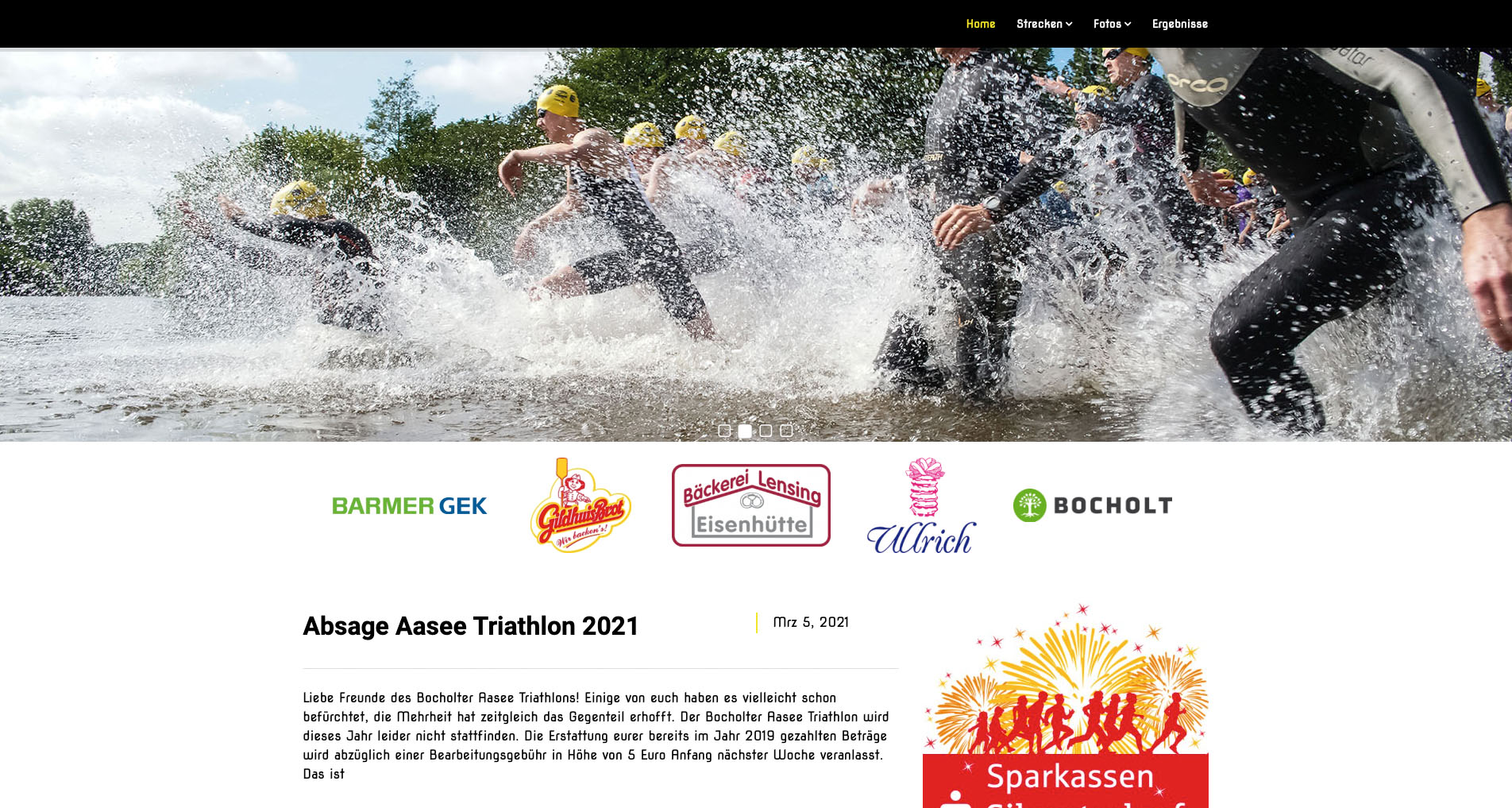 Sport is at its best in the club! In seven departments we offer popular and competitive sports and with the club's own natural swimming pool Tonwerke we also have a unique sports and leisure center at our disposal.
To the Website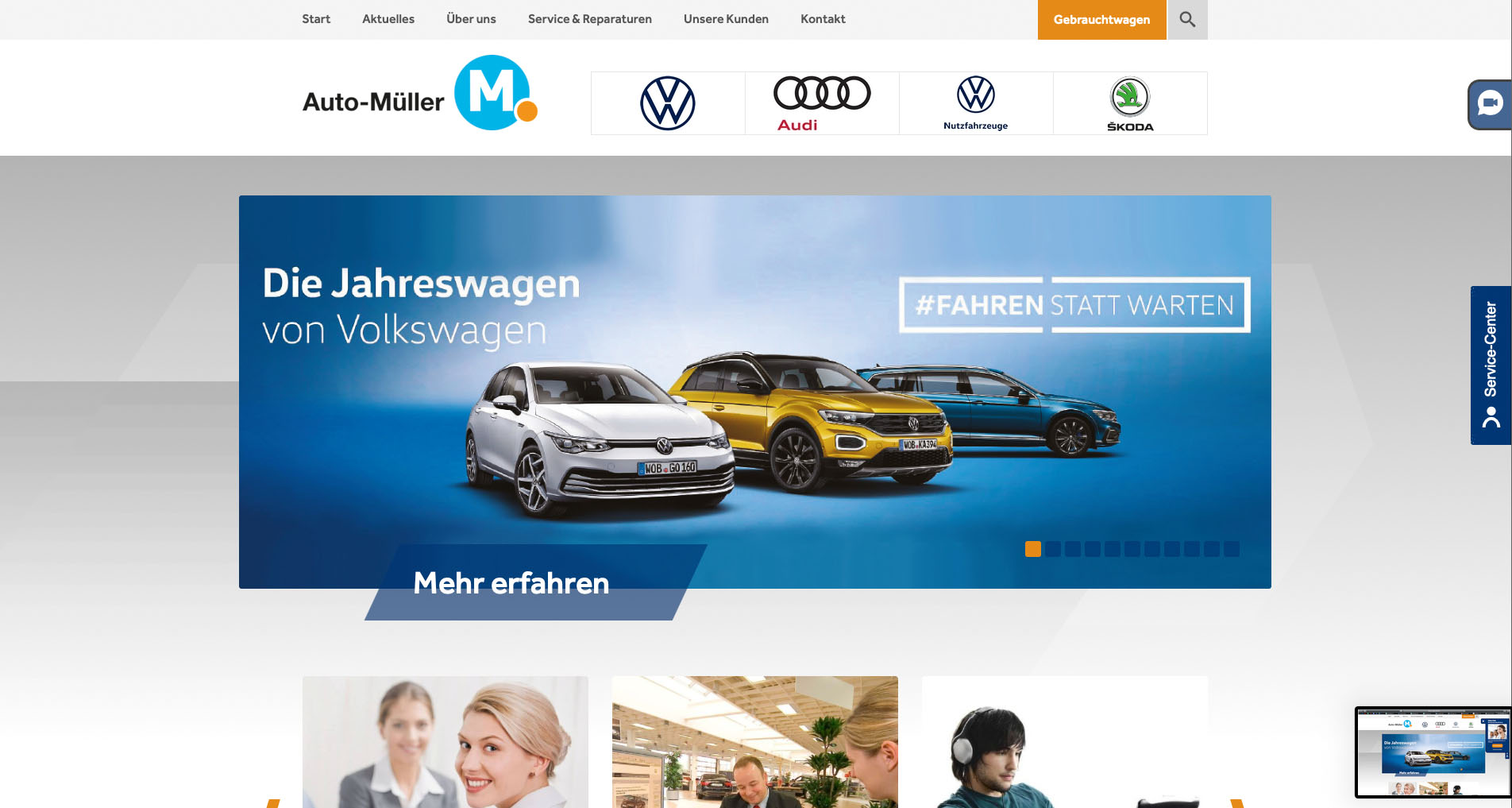 is your trustworthy and reliable partner in Hüttenberg for Central Hesse, Wetzlar and Giessen. At our dealership, you will be treated individually and courteously. For over 45 years, we have placed special emphasis on fair and transparent cooperation in everything we do, with each other and with our customers.
To the Website