Power for your B2B E-Commerce Mission
No compromises: Rely on cutting-edge technology for your B2B e-commerce mission. For fast implementation, real customer acceptance, increasing sales and plenty of room for future digital sales ideas.
The B2B suite ProLine is based on Magento, the world's leading e-commerce software. ProLine extends Magento's unique feature set with over 400 additional B2B functions and offers seamless integration of ER & ERP as well as state-of-the-art headless technology.
Designed for businesses that want to be one step ahead!
With more sales power. More revenue. More success.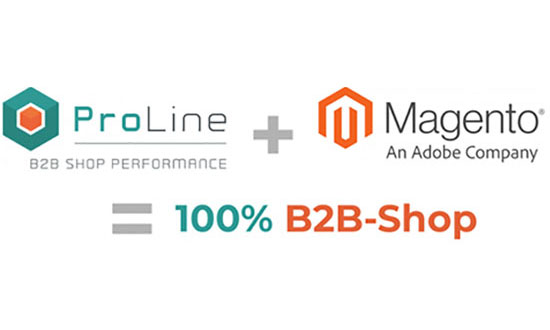 B2B store performance with ProLine
On average, ProLine covers 95% of all requirements for a B2B e-commerce platform through its existing range of functions.
Business cases can be implemented quickly and cost-effectively thanks to convenient configuration. There is no need for costly additional developments.
With these options, you offer your business customers a powerful shopping experience and excellent service. Your company benefits from the high acceptance of enthusiastic customers.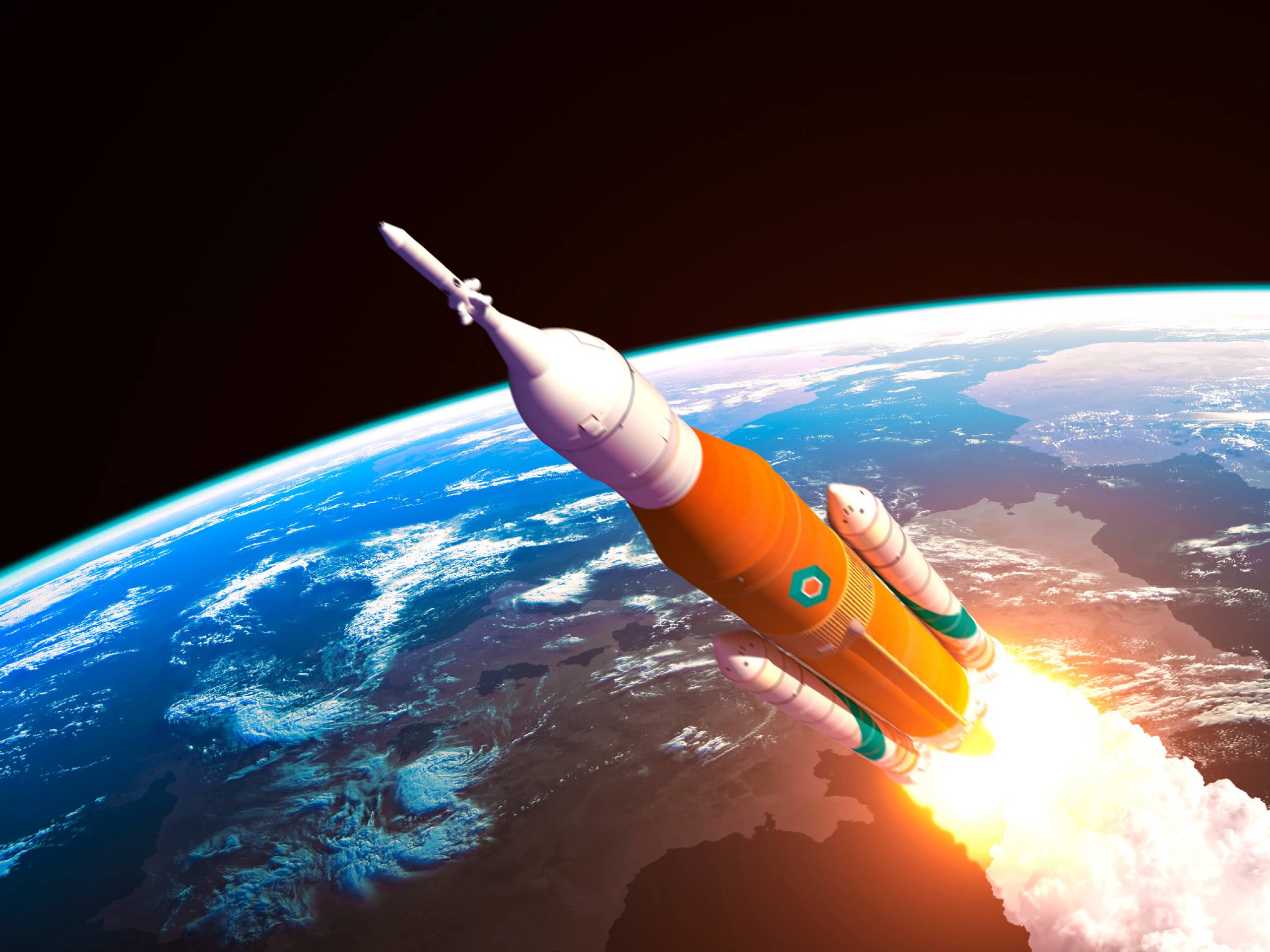 Powerful functionality with 400 B2B features
Customized information & conditions
Always show your customers relevant information and exactly the conditions that have been agreed with them.
Display of customer-specific
product assortments
Article numbers
Downloads
Prices
Payment methods
Shipping costs
Contract documents
Fast & convenient ordering
Inspire your customers with fast and convenient ordering options:
Quick order function
Intelligent product search
Upload of order files
OCI/punch-out functions
Saveable shopping carts
Easy reordering
Ordering via scanner, smartphone app, IoT
Automated replenishment control
Order workflow
Request for quotation
Customer Delegated Service
Enable your customers to design their purchasing processes themselves and individually.
Free definition of users and their rights & roles
Comfortable configuration of the order workflow
Administration of delivery addresses
Management of ordering devices such as scanners, dashbuttons, voice, IoT
Configuration of OCI connection
Definition of product assortments
Valuable information portal
Provide your customers with all the information and documents of the purchasing process.
Orders
Invoices
Delivery bills
Shipment tracking
Backorders
Returns
Credit notes
Customer specific downloads
Statistics
Cost-efficient rollout
Thanks to the integrated multi-store technology, numerous additional stores can be implemented quickly and efficiently with just one store installation, e.g. for additional
countries
Languages
Brands / companies
Target groups
B2B / B2C
Special customer groups
More B2B features
Discover more ways to delight your customers.
Field service function
Commercial registration
Desired delivery date
Use on all devices (desktop, smartphone, tablet)
And many more functions
ProLine Pagebuilder Magento 2 Extension (optional)
With Pagebuilder you finally have the possibility to create appealing and responsive content without HTML knowledge. The available widgets are simply placed by drag´n´drop and filled with information like text and images. The mobile-first approach of the extensions generates best possible results for mobile devices.
Placement of sliders with content at any location
Building landing pages on CMS and category pages
Detailed product information with category teaser
FAQ page with chordion
Construction of campaigns and action pages with CTA
apiboxx® a multifunctional middleware (optional)
With our apiboxx® the data management of IT systems is improved and we deliver a middleware that can process all inputs and offers maximum possibilities to make changes e.g. the mapping of fields (datalayer) in an intuitive interface by yourself. Available as cloud and on-premises solution.
Central platform for interfaces and APIs
Multi-protocol interfaces
Web-based API platform
High availability and security
Securely into the future with proline:
One e-commerce platform for all ordering scenarios
Realize additional sales scenarios and business cases quickly and flexibly. Thanks to API-first & headless technology.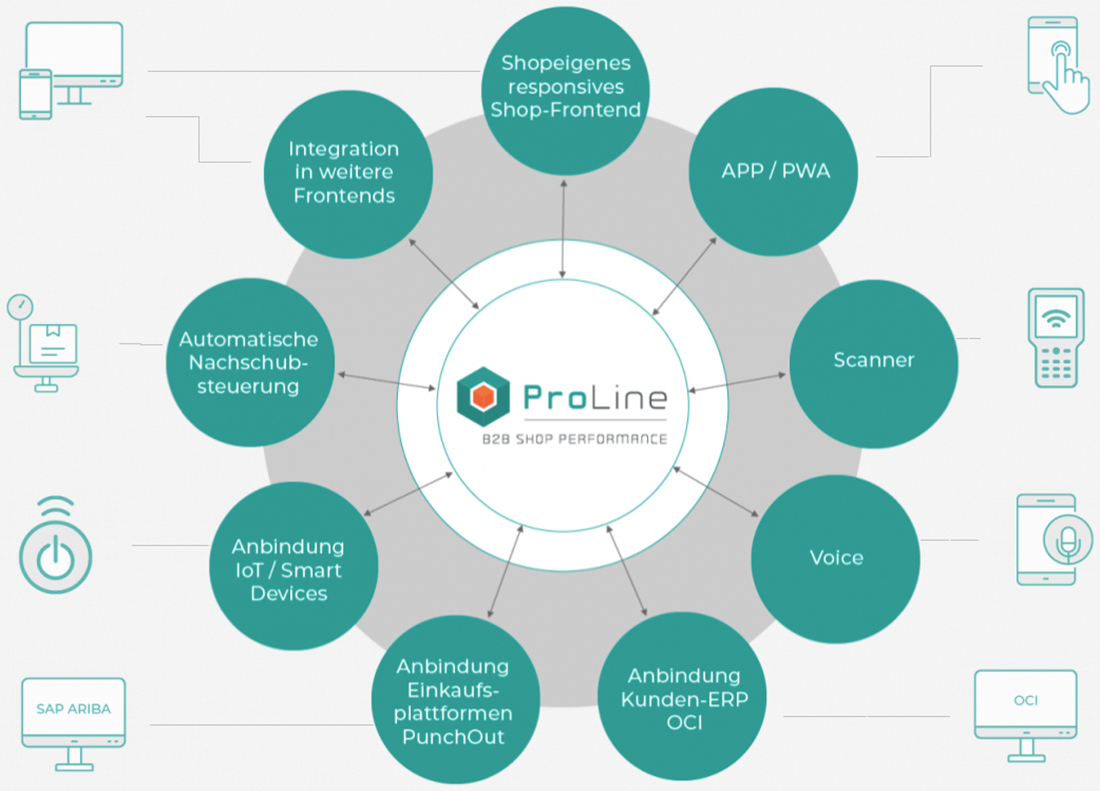 Successful companies rely on Magento & ProLine